Project Management Software
Project Management Software has become an essential tool for forward thinking industry leaders. Project Management today requires a level of collaboration and accountability that yesterdays software tools don't provide. Project outsourcing, and home offices have made local Project Management software systems antiquated and virtually useless compared to Smooth Project's web based project management software.
Smooth Projects is a simple and effective web-based enterprise Project Management Software hosting solution that will put you back in control!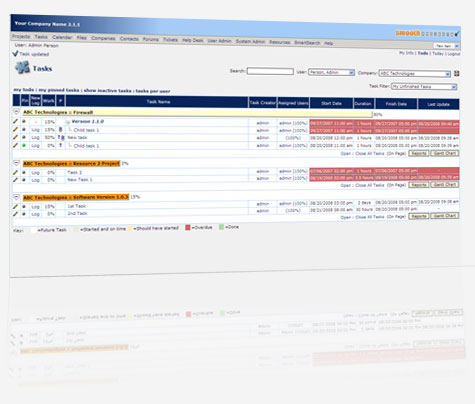 Ease of Use!
Regardless of price or features, if the project management software you select is not easy to use the probability of a successful implementation is extremely low. The most resounding accolade shared with us by subsribers is how easy the project managements software Smooth Projects offers is! It's so easy that we often have days go by without a single support call!

Unlimited Users & Projects, 1 Low Price!
While some project managment software solutions advertise a low price, once you take into consideration how many users you have and the number of projects, that price can quickly esculate. Smooth Projects charges one low price alllowing you to have as many users and projects as you need.
Private Database Installation = Speed and Security!
Some project management software solutions offer free trials. If they do, it typically means that their solution is not installed in it's own private database. Due to the extreme amount of time it takes to do a private database installation on a FREE custom domain we provide for you, free trials are virtually impossible. The reason you want a private installation is the esculated security and speed it offers. By taking this approach the project software only works with your data instead of thousands of other people's data when operations are executed which greatly increases the speed at which the result sets are provided to you. The level of security and speed that Smooth Projects project management hosting offers is amazing!
Easily Control Who See's What!
Want to allow your clients to see their projects, but not edit? No Problem!
Want to allow your sales department to see their projects but not marketing? No Problem!
The level of control over user permissions in the project software is hard to beat!
So Inexpensive it Negates Risk!
Many people and most companies spend more on coffee in a month than Smooth Projects offers this project management software hosting for! What do you have to Lose?